Bangladesh Collapse Shows Safety Audit Shortcomings
By Dave Jamieson and Emran Hossain
Posted on the Huffington Post Website: 05/04/2013 9:14 am EDT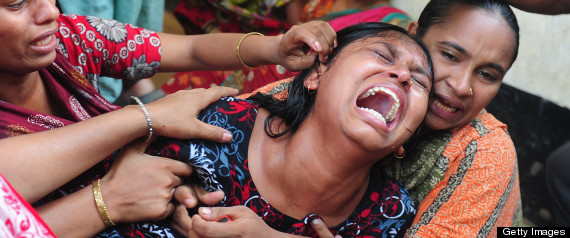 Major clothing brands like to say they have a system in place to avoid doing business with overseas suppliers that mistreat their workers: The corporate-funded factory audit, performed by credentialed inspectors and designed to weed out bad actors.
But for the past six years, Abu Bakar, a Bangladeshi garment worker in the sprawling industry hub of Gazipur, has helped create the clothes for which Western buyers seem to have boundless demand. In that time, he's developed his own idea of what a factory audit is.
That's when the foreigners show up to scrutinize everything he and his colleagues do — not for the sake of safety, but for the sake of production. They make sure that the clothes are dyed right. That the shirts button properly. And that the right amount of product is going out the door in the right amount of time.
In all his time on the floor, Bakar said he has never been interviewed as part of a factory safety audit. His concept of an audit is pure production anxiety.
"No one turned up at our factory to ask about fire safety after the Tazreen fire," Bakar, who works in the dye department of his factory, told HuffPost in Bengali. The Tazreen factory was the site of a massive fire in November that claimed the lives of 112 mostly impoverished garment workers, many earning as little as $37 a month. Bakar's factory sits roughly 15 kilometers (9.3 miles) from Tazreen.
The death of more than 520 workers in the horrific collapse of Rana Plaza last week has raised fresh questions about the effectiveness of factory audits underwritten by Western brands. Two of the factories inside the building had undergone audits overseen by a monitoring group, the Business Social Compliance Initiative, which was created by a European industry group, the Foreign Trade Association. Similarly, last year, after more than 260 workers died in a factory fire in Pakistan, it was revealed that the plant had recently been green-lighted by a different industry-funded auditing group, U.S.-based Social Accountability International.
Many worker advocates criticize these auditing systems as well-meaning, but flawed, pointing to an inherent conflict of interest: The groups are largely funded by the very corporate members whose contracted facilities they're meant to monitor. The auditing process, these critics claim, ends up catering more to the brands involved than the workers toiling on the line, like Bakar, many of whom have never spoken to an inspector.