Bangladesh Death Toll Pressures Western Retailers To Make Commitments On Factory Safety
By Emran Hossain and Dave Jamieson
05/01/2013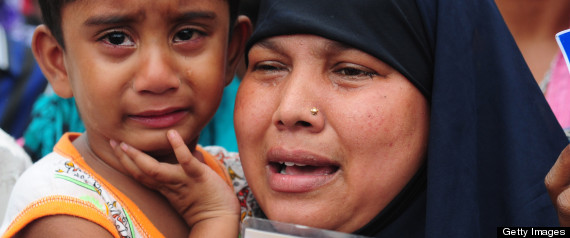 The climbing death toll in the wake of a massive building collapse in Bangladesh has put increasing pressure on Western retailers to commit themselves to safety improvements in the country's garment facilities.
As of now, the contributions made by U.S. and European brands toward safeguarding Bangladeshi factories that produce their apparel are largely voluntary and non-binding — a fact that has exasperated labor rights and worker safety groups. As HuffPost reported just before last week's tragedy, the industry-funded compliance programs that retailers currently rely on are well-intentioned but mostly toothless, leaving the responsibility for safety with Bangladeshi subcontractors and the country's business-friendly regulators.
But with the number of dead in Savar, Bangladesh, surpassing 400 — and hundreds more unaccounted for, possibly still in the rubble of the building, Rana Plaza — even retailers who didn't have their clothes made there are facing calls from worker advocates and politicians pressuring them to pledge upgrades to safety standards and inspections.
On Wednesday, Democratic Reps. George Miller (Calif.) and Sander Levin (Mich.) sent a letter to President Obama, asking him to take the lead with U.S. retailers and the European Union in preventing more factory tragedies. Notably, the congressmen told the president that any plan needs to include "effective monitoring," and they referenced a binding legal commitment already proffered by labor rights groups.