How Bangladesh Garment Industry Traded Workplace Safety For Jobs
Posted to Huffington Post: 05/23/2013 7:04 am EDT  |  Updated: 05/23/2013 8:46 am EDT
By Emran Hossain, Dave Jamieson, Kim Bhasin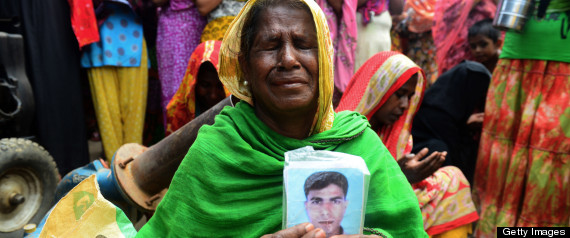 Like millions of other young women in Bangladesh, Sumi Abedin forged her place in the modern economy at a sewing machine inside an urban garment factory.
The ready-made garment industry now accounts for a whopping 80 percent of Bangladesh's exports, making the country the third largest exporter of garments in the world. The explosive growth in business over the past two decades has helped create more than 3.5 million garment jobs in the country, particularly for women like Abedin, who, just a generation ago, may have had no formal position in Bangladesh's workforce.
Until recently, Abedin, 24, worked sewing pockets onto pants in the factory known as Tazreen Fashions, outside Dhaka. She earned meager wages by global standards — roughly $55 a month, comparable to what other garment workers in her country make. This cash was critical for the survival of her family. Her father works as a rickshaw puller, and his earnings alone did not cover food and other basic necessities. Their combined income was just enough to support themselves and Abedin's mother.
But such opportunity comes with steep costs. Abedin knows people who paid for it with their lives.
Abedin no longer has a job. Last November, her factory burned to the ground, killing 112 people. She leaped from the third floor, breaking her right leg and left hand in the process. The young man who landed beside her died.
As proponents of expanded global trade are quick to highlight, Bangladesh's stratospheric rise in the apparel world has helped alleviate the country's grinding poverty. But in Abedin's case, the boom has taken more than it's given. After losing her job, she said, she was left with a payment of $150 from her employer, to cover back pay and severance, and another $1,200, from a fund supported by Li & Fung Ltd., a retail giant that contracted to have its clothes made inside the doomed factory. Medical bills have already swallowed about three-quarters of that money, and her doctor has told her she needs a year to recover before she can hope to work again.